Forestry and Landscape Engineer
The forestry and landscape engineer programme is a both practical and theoretical programme aiming at providing the graduate with the necessary background knowledge to make qualified decisions concerning the management of forests, parks and landscapes. Danish is the study language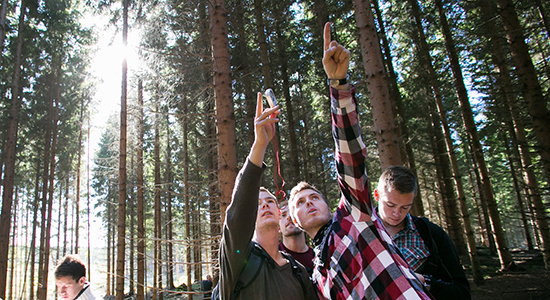 Academic focus and breadth
Forestry and Landscape Engineering is a professional Bachelor's degree programme for students wanting to work in forestry and forest management, landscaping and urban nature at professional level. If you are interested in nature preservation, forestry and developing recreational areas, the Forestry and Landscape Engineering study programme offers excellent career prospects. The programme provides students with an academic foundation through planning, landscaping, maintenance and operation of forests and natural areas. Using interdisciplinary themes, theoretical knowledge is translated into solving practical problems, developing broader business skills.
Good job prospects
As a forestry and landscape engineer you are assured good job prospects at home and abroad. For example, you can work in hardwood and coniferous wood production for the timber industry, game management or stream and moorland management. Or you can be in charge of outdoor life in forests, parks or large natural areas. You can also become a forest ranger, a contractor in landscape and service companies or start your own business. Opportunities are also available in consultancy and teaching. If you want to pursue further study, the University of Copenhagen offers a range of MSc and Master's programmes.
Programme structure
The programme is based at the Forest and College in Jutland and Zealand. On both study locations you will be in close daily contact with nature, where theoretical learning is put into practice through exercises, field trips and project work. Teaching alternates between indoor lectures and practical tasks in nature. The programme develops your academic, theoretical profile in forest and landscape understanding, management, economics, law, consulting, project management and marketing.
Internships
The programme includes a nine-month internship. This will give you the opportunity to tackle real-life problems and tasks similar to those normally handled by urban landscape engineers, in the process acquiring valuable work experience that will make the transition from studying to your future job smoother and more targeted.
A school out in the woods
By far the most of your study period will be spent at the Forest College (Skovskolen) which is scenically located in Gribskov Forest next to Esrum Lake north of Hillerød. With nature just outside your door, students benefit from an outdoor classroom throughout the study programme and translating theory into practice is made simple through exercises, field studies, project work and field trips. There are frequent excursions, either to companies or where we carry out assignments or other exercises in nature as part of the course.
Live in the countryside 
Forest College students are able to rent a room with a kitchenette and internet access. You also have access to a sports hall, common room, outdoor equipment, library/group rooms and a canteen which serves healthy, tasty meals. At the college, there is also every opportunity to pursue your hobbies – indoors and out. An hourly bus service operates between the Forest College and Hillerød.
Entry requirements
Qualified applicants have:
Upper secondary education (STX, HF, HTX, HHX) or a foreign examination comparable to a Danish upper secondary examination
Entrance exam for the engineering programmes
A vocational education as a skilled forest and landscape craftsman (level 2), landscape gardener, production gardener or greenhouse gardener (level 2) or the forestry and landscape engineering programme (with thesis) 
All applicants must have passed subjects at the following levels:
Danish A
Mathematics B
English C
Chemistry B, Biology B or Biotechnology A
Deadline for applications
5 July (quota 1) and 15 March (quota 2)
Study start
Every year in September
Information and student counselling
Forest and Landscape College
studievejledning_administration@ign.ku.dk
You are also welcome to drop by the Forest College for a guided tour and a chat to see whether the Forestry and Landscape Engineering Programme is for you.
Read more about the programme in Danish